About Sitia Organic Olive Oil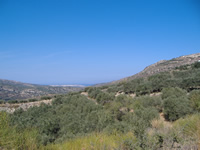 Sitia is a small coastal farming community situated at the very eastern edge of the Mediterranean island of Crete. The area has been inhabited continuously for over 6,000 years since the Minoans had their major settlement at Praissos, just half a kilometre from our mountain olive groves. Minoan Praissos had over 20,000 inhabitants so it's hard to imagine that they didn't farm our groves way back then.
The local inhabitants are famed for enjoying great longevity owing to their lifestyle and diet, and no doubt to their consumption of large quantities of the glorious olive oil of the region.
We bought our groves two years ago from a local who had paid little attention to his trees for some time, which was to our benefit as there had been no chemical fertilisers or herbicides added to the land for some time, allowing us to get in to the "organic" farming programme with a head start. It will take us a further two years to get our certification as organic (or "biologic") owing to the machinations of the certification system, but our trees have had no chemical fertilisers, herbicides or pesticides for at least two years. Additionally, our groves are protected by natural barriers (large terrace steps and wide though little used roads) which further protect them from chemical drift either aerially or sub-soil .
Our trees are mostly very old, some we guess at over 300 years of age, and of the "koroneiki" variety. We believe the combination of variety, age, microclimate, altitude and organic farming methods contribute to the superb flavour of our oil. The Sitia region in general has won many awards for its olive oil and our single estate oil has the additional benefit of being organically grown, individually cold pressed and sold unfiltered to retain the high oleuropein content and wonderful flavour.